A 20 kg Olympic barbell with built-in collars. Made with top-of-the-line materials and precision engineering. The patented SlideLock™ makes the lifting experience in your gym safer, tidier and more user-friendly. Tested for performance, The Allrounder is a highly durable and solid bar suitable for all uses. Securing your plates has never been easier. The built-in SlideLocks provide the most efficient and user-friendly locking mechanism on the market.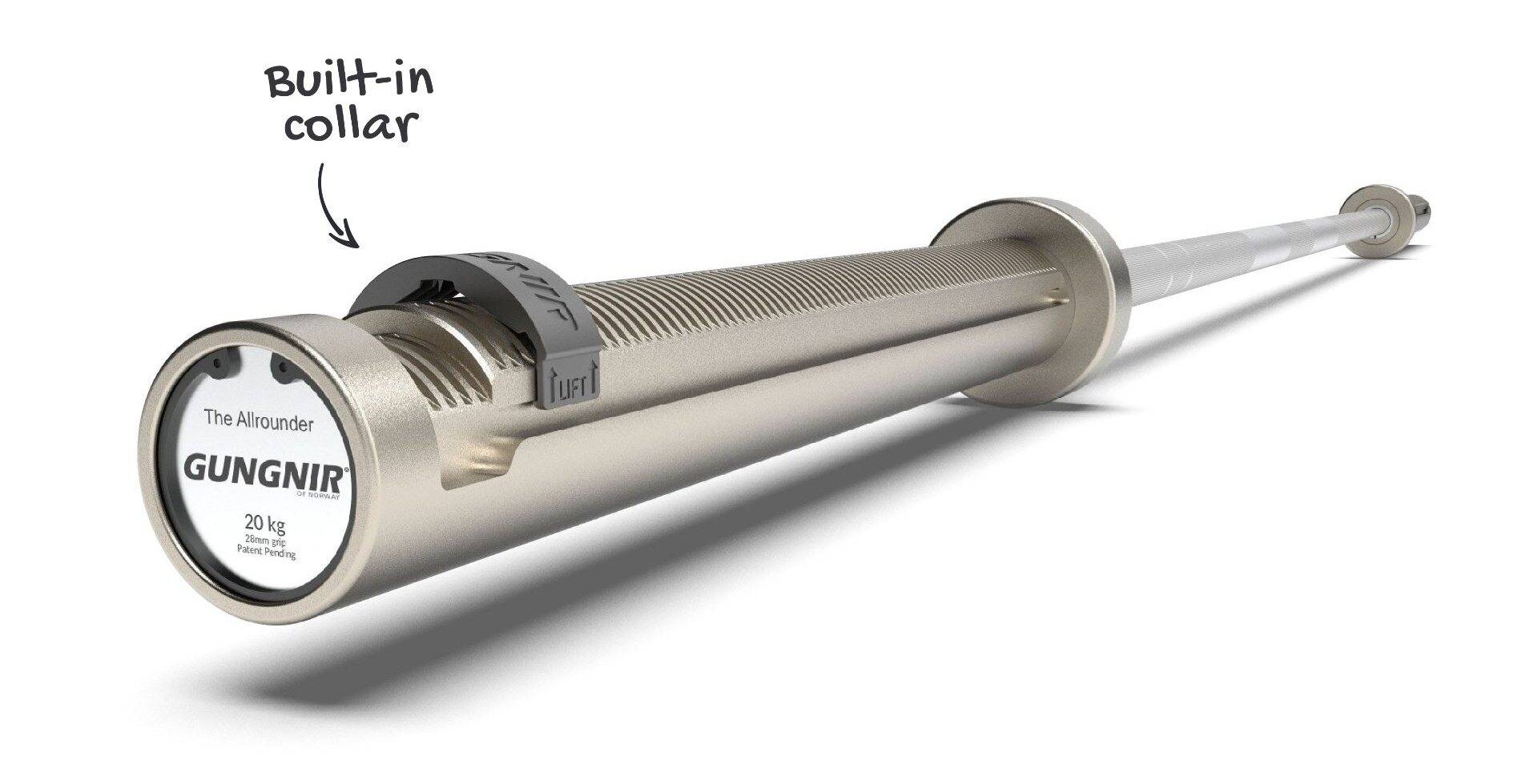 Give your gym members the
best lifting experience possible.
There are many reasons to choose a Gungnir bar for your gym. The built-in collars add a whole array of benefits, without weakening the bar itself or affecting functionality or performance. No more disposable clips lying around, breaking, disappearing, bending, and no more hassle putting them on and taking them off.
People love a clean and tidy gym. The SlideLock being built in to the bar itself means you can keep your gym tidier with no more clips and collars lying around. That means no more picking them up, stepping on them or having them clutter up the place.
SlideLocks make for a safer gym experience, thanks to its great accessibility. Users choose to utilize the SlideLock more frequently than regular collars. Keeping the user and their surroundings safe.
Provides the user with the most efficient and user friendly locking mechanism on the market. It has never been easier or more addictive to secure weights. With only two fingers, it's done. Lift, Slide, Lock.
The bar and SlideLock comes with a lifetime warranty. In the astronomically unlikely event that the SlideLock breaks, you get a new one free of charge.
The Allrounder has been developed by and for the end user, in collaboration with Crossfitters, Weightlifters, Powerlifters and average gym goers.
Unique and patented design made in Norway. The only olympic barbell with built-in collars.
Manufactured and built in Scandinavia
Meticulously built with precision engineering and carefully selected high grade materials.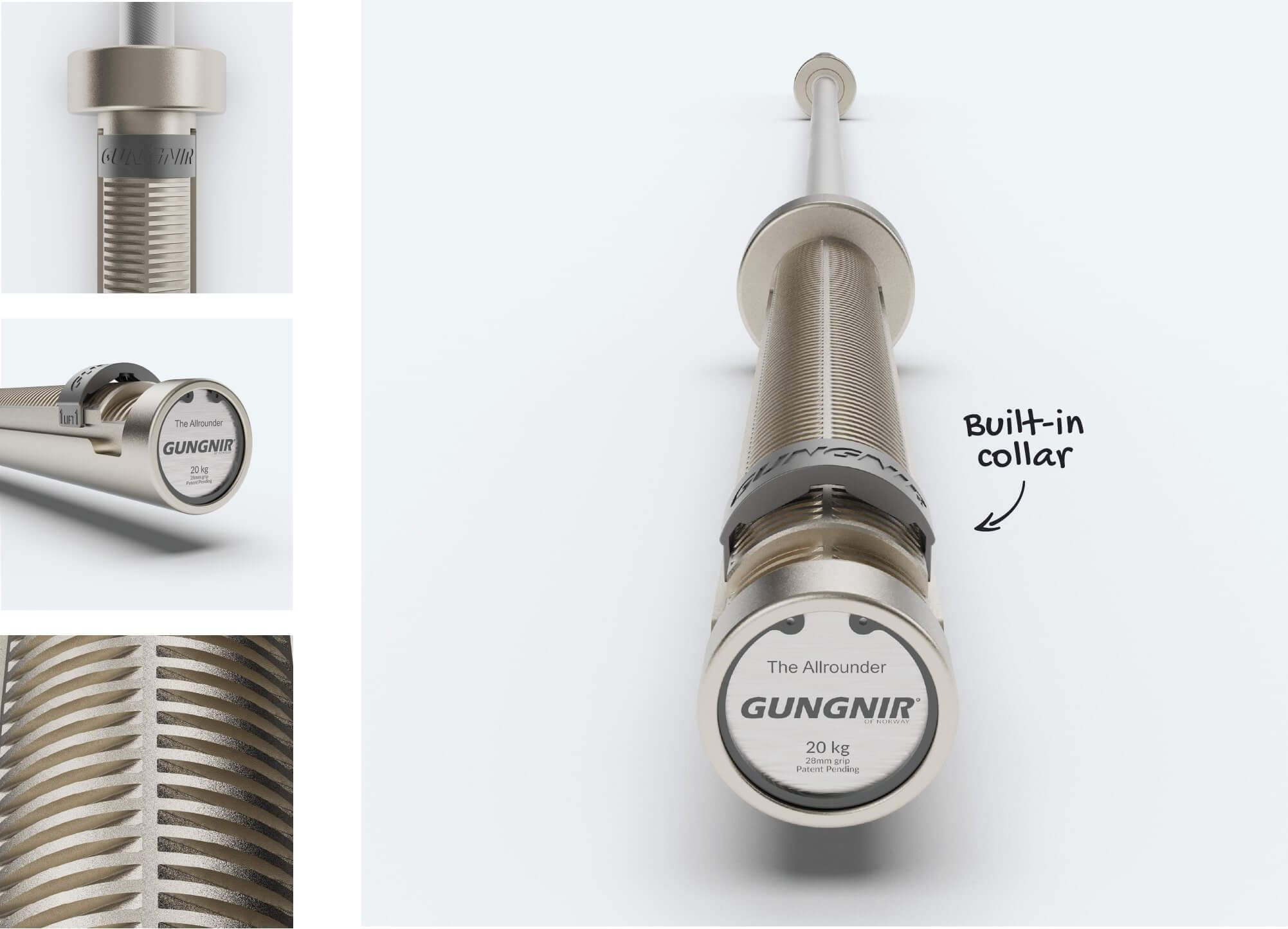 The built-in collars or SlideLocks have been tested to along with the bar in a drop-testing rig that simulates the varieties of 15.000 real life drops at heights of 1.6 m loaded with 320 kg of plates, as well as heights of 2.2 m with 90 kg. Not to mention a hydraulic press test that proved the Slidelock can endure a direct vertical pressure of 15.000kg, while staying perfectly intact.
---
One less thing to worry about
You know how most of your clips and collars get bent, broken, or just go missing? Everytime something happens to them, you need to replace them. Built-in collars don't go anywhere, saving you both time and money. Giving you the peace of mind to focus on other important stuff - like running a gym.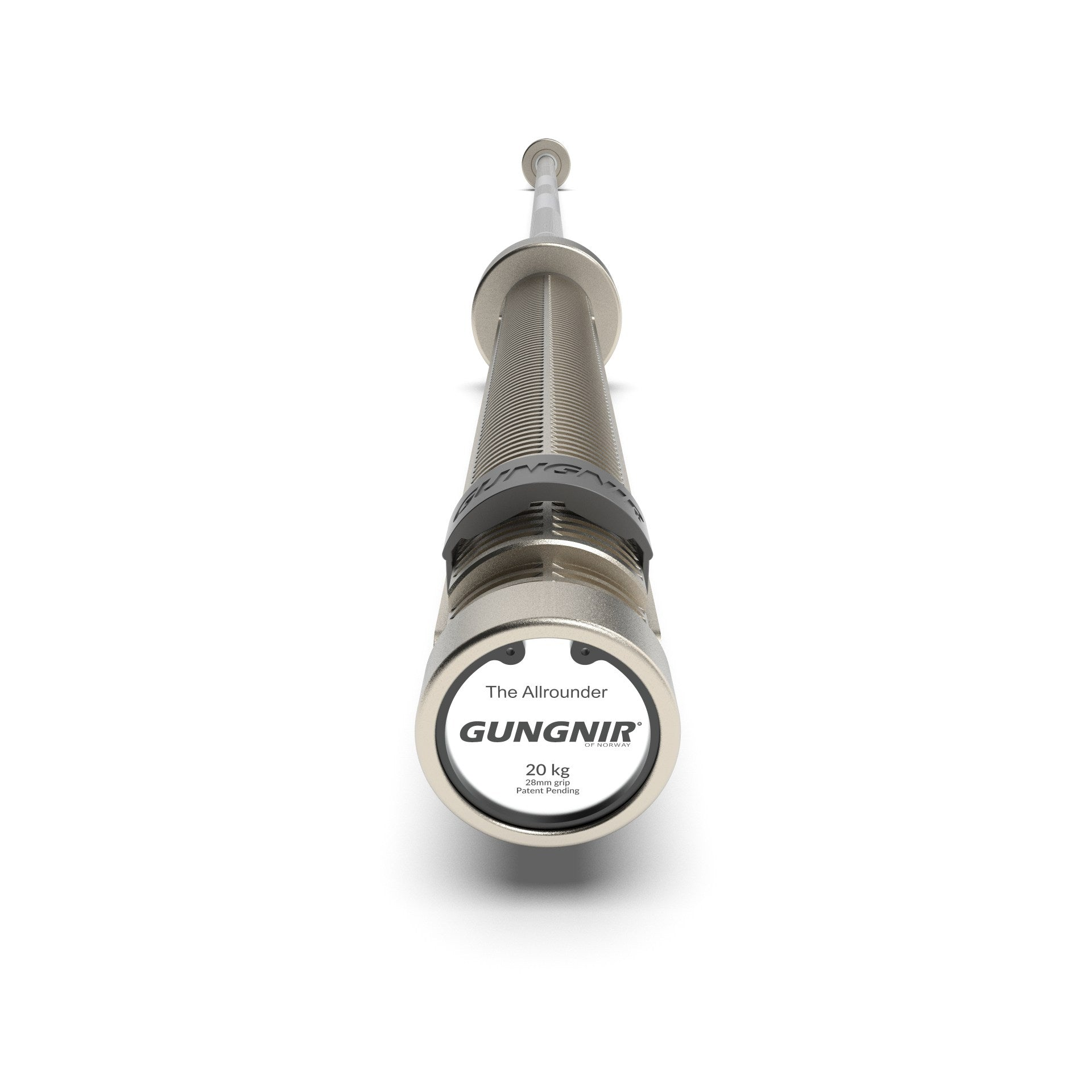 Seriously efficient workouts

Optimize workouts with faster supersets, dropsets and light-to-heavy exercises. The weight plates transition on and off faster, and neither the weights or SlideLock will budge while lifting. Giving the lifter efficiency and peace of mind to focus on the lifting. The SlideLock mechanism promotes great user experiences which in turn create better workouts.
---
The 100-year old barbell has finally evolved. Award winning design made to be intuitive, functional and solid. It's a design meant to inspire users to be active. We don't just want it to be a great workout tool, we want it to create such a good experience that makes the user want to come back and use it time, and time again. The way we achieve this is by creating a feel, a sound and a trust in a product and mechanism that simply becomes a joy to use.
And disposable collars aren't free
But we don't need to tell you that. Clips and collars are unreliable. It's only a matter of time before you need to buy new ones, and that cost adds up over the years. Having built-in collars erases that from the equasion, so you don't have to worry about replacing collars on every bar in your gym. Ever.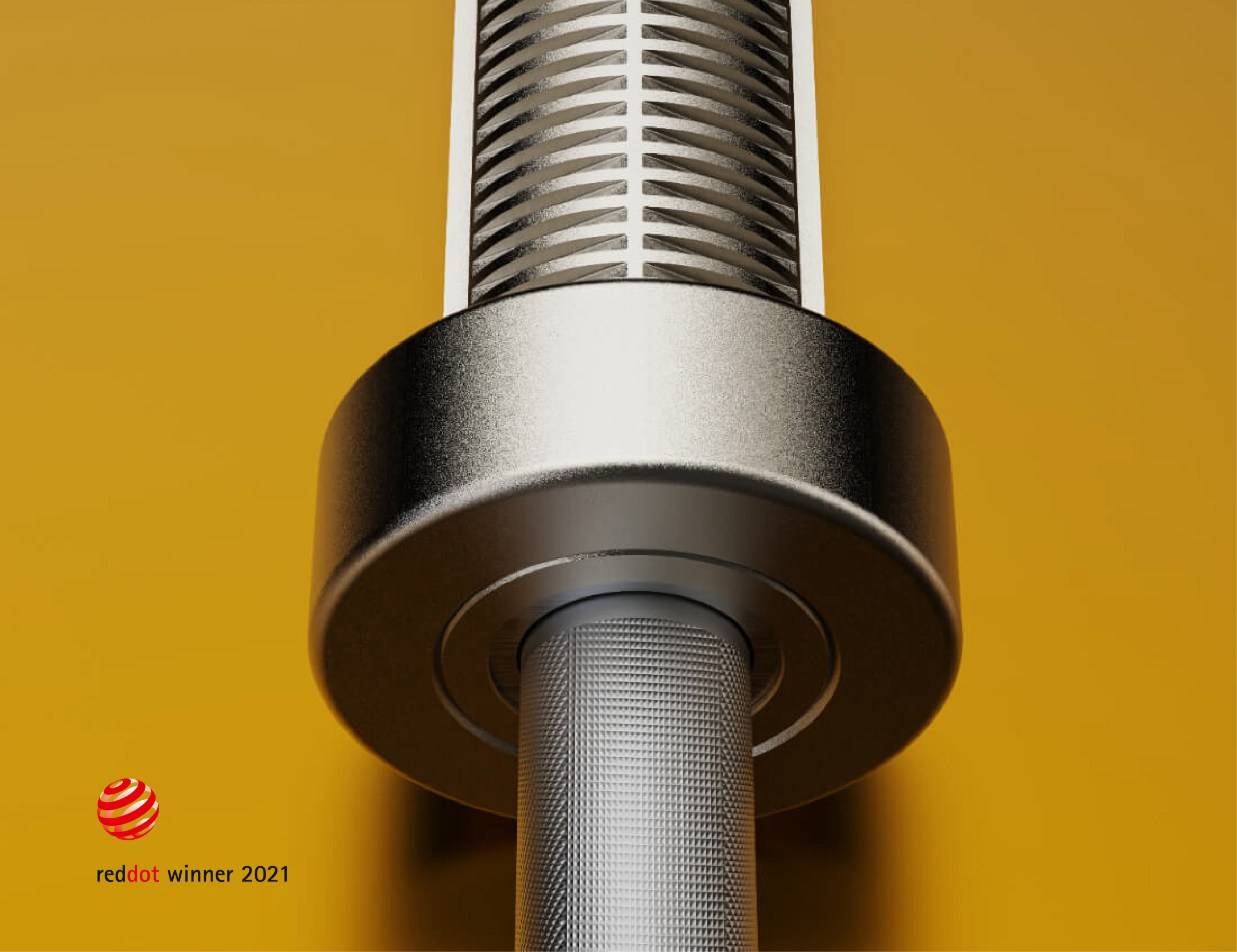 Design that stands out in a sea of regular bars. The Allrounder Olympic barbell has been awarded with the 2021 Red Dot design award for outstanding product design.
"The winners of the Red Dot Award have proved that they have created excellent products worthy of winning an award." - Professor Dr. Peter Zec, founder and CEO of Red Dot
Gym owners and resellers all over the world are sharing how Gungnir products help them have better experiences for themselves, but more importantly for their customers.
CrossFit box Owner and personal trainer - CrossFit sagene
"One of the best barbells on the market. We have had this bar for 6 months now and don't see any marks or have had any issues with it. Loved it from the beginning. Comfortable knurling for normal lifting. Ideal for CrossFit, home gyms, globo gyms etc. Thanks guys and keep kicking ass on the productside of the training industry. We need Gungnir of Norway!"
Personal trainer and physiotherapist - Driv PT studio
"The Allrounder is an excellent bar and just a solid product. It's really easy to use. I was actually surprised at how efficient it was. I work at a PT/client facility where no members train on their own - only with a personal trainer or physical therapist. For about 6 months we've been using the bar, and now there's no going back for me. This is the real deal!"
Owner and manager, LIA trening
"From day one I noticed a tidier gym. The feedback from the members has been amazing. They would never go back to old school barbells."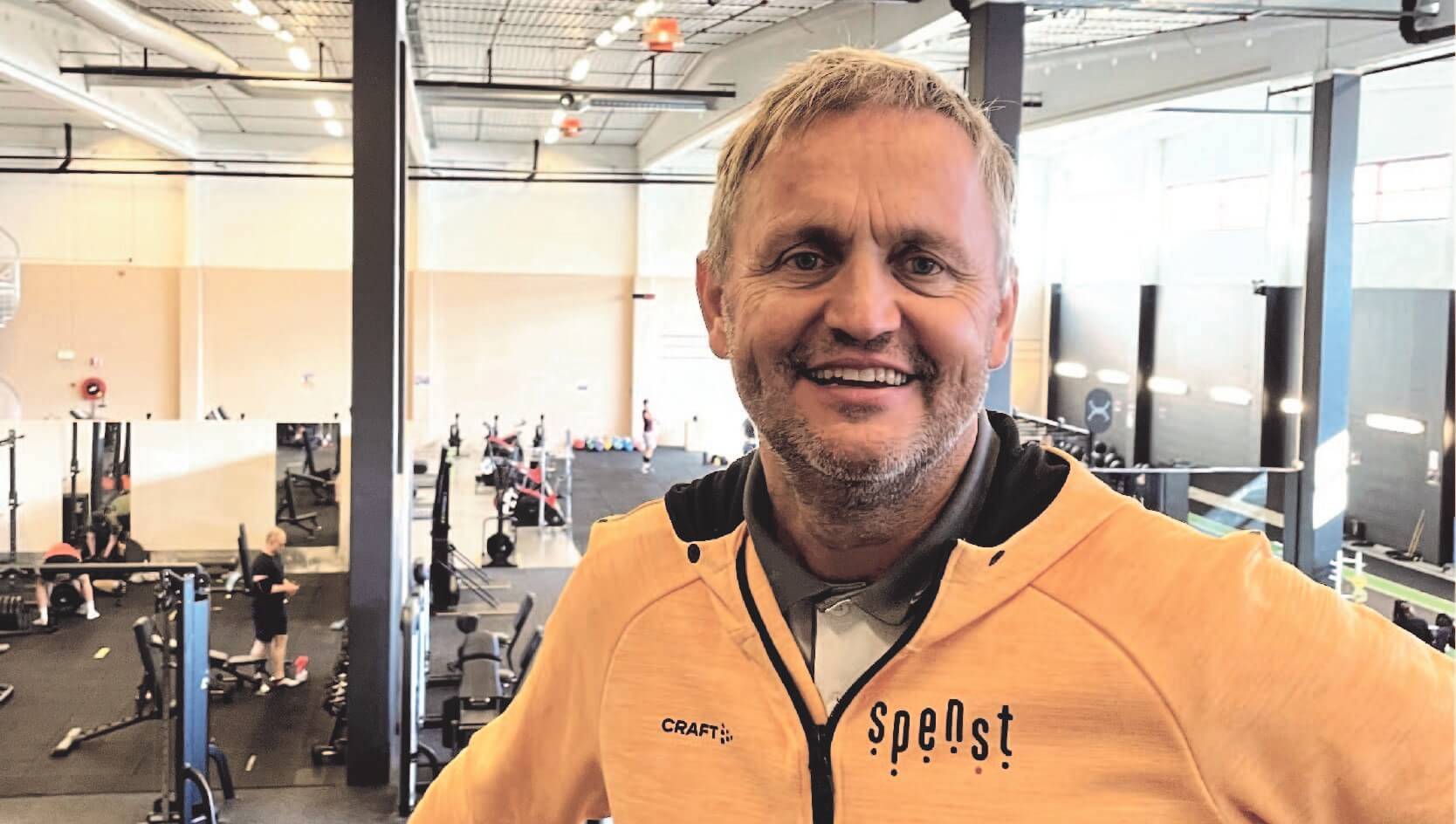 Owner of Spenst Lillehammer & Arena
Geir Arne is the owner of two of the biggest fitness centres in Lillehammer in Norway, now equipped with Gungnir bars. For him, the transition from regular collars to built-in collars was a breath of fresh air.
"The kind of bar you want to keep to yourself to get an edge on the competition. I've been in the business since the 80's and i've always been annoyed by clips and collars. They break all the time and they disappear. The first thing I noticed when we took in the bars is that it helped us increase our professionality in terms of decreased clutter and increased safety."
Are you interested in a FREE trial?
Let us know who you are and what your needs are. We are happy to get in touch!
Send us your contact info
Get in touch with our sales reps
Get the Gungnir product catalogue  
Enter your name and email address to get a free copy
For other questions or requests
Leave us your info and a message, we will be in touch with you as fast as we can